Girls Junior Beach Volleyball
Buckeye Volleyball Club is proud to enter our 8th year on the sand!
2021 Beach Registration coming soon!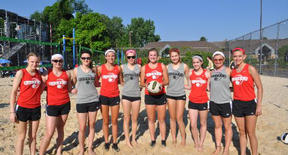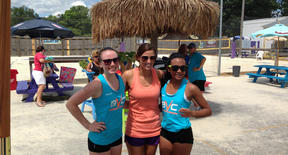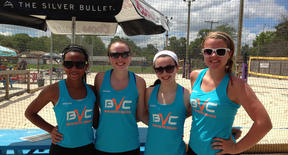 Buckeye Beach Information
Buckeye Volleyball Club beach fees cover the cost of practice, coaching, uniforms.
Teams choose the tournaments they would like to enter.
This will allow flexibility for vacations and other activities.
Players must sign-up as a team.
Practice will be once per week on Tuesday from 10:00AM to 12:00PM.
Typical tournament cost is $60 per team​
Fees & Registration Forms
Practice Kick-off: May 31st, 2022
Girls and Boys ages 12 thru 18 will be accepted to play this year.
* Practice Once per Week *
Tuesdays (10:00am to 12:00PM)
Ages: 13U-18U
$275 Per Player
2 players on team
1 practice day per week
Ages: 12U
$200 per player for 3 Players on team
$275 per player for 2 players on team
1 practice day per week
​Price includes
Weekly practices (Tuesday)
Coaching at practice
Facility rental
1 competition jersey
Practice Location
Volleypark, 5501 Sandalwood Blvd
Columbus, Ohio 43229
Beach Tournaments
*Pending OVR Sanction
To Enter Tournament Below go to the OVR Website and send email on date you would like to enter.
Clinic Link: OVR Beach Tournament
Dates:
June 25th: 12U & 14U
June 26th: 16U & 18U
July 9th: 12U & 14U
July 10th: 16U & 18U
July 16th: 12U & 14U
July 17th: 16U & 18U
Why Beach?
This program helps players both physically and mentally for the game of indoor volleyball. With so much ground to cover for two players, the teams learn how to incorporate ball control and correct body positioning into their game. Through training in the sand, players improve strength, endurance, and vertical ability. The game is a wonderful off-season training option as the sand absorbs impact and is better on joints. Furthermore, this program alleviates the burnout of playing indoor year round.
More Information
Nationally, USA Volleyball has become the sanctioning body for beach volleyball, and is now mandating all USAV regions begin the process of developing beach volleyball clubs and competition opportunities for its members. Year in and year out, the OVR is one of the largest regions in the country. USA BEACH is looking to us to set the standard for strong, organized beach volleyball programs in the Midwest.
Colleges and Universities Approve Beach Volleyball
Beginning August 1st, 2011 at the collegiate level, the NCAA has officially approved Women's Beach Volleyball as an emerging collegiate varsity sport. Division I and II colleges and universities will now have the opportunity to recruit and give scholarships to beach volleyball student athletes like they currently offer indoor volleyball student athletes. Coaches will be looking for players that are proficient in both beach and indoor to compete for their universities.
2019 OVR Beach Volleyball Series
The OVR Summer Beach Series will be held in various cities every weekend. Players and Parents will also have the option of attending a local tournament being held by Buckeye or another club in the city. Only OVR Tournaments will be worth points but we do realize that not everyone will want to travel all over the state for tournaments and would rather play a local event that will be sanctioned by the OVR.
Beach Volleyball Key Points
1. The competitive season will last from Memorial day weekend thru the 3rd week of July, 2020.
2. Indoor club players will be eligible to play sanctioned sand events while playing for an indoor club
3. Individuals can play for one indoor club and a different Beach club.
4. The OVR will be hosting a Summer Beach Volleyball Series of events for all age groups. Go to www.ovr.org.
5. Individual player points will be kept on the OVR Beach site for players' finishes in sanctioned events. These player points will deternine rankings in the region for seeding purposes for tournaments.